I want my jar of dirt! *pouts*
Posted by
_veneanar on 2007.03.04 at 13:56
*Name:
Claire
*Age (you must be at least 13): 17
*Location:
Singapore
*Piratey phrase of choice (ex: savvy, mate?):
bugger :D
*Five positive adjectives to describe you:
cheerful, optimistic, funny, caring, creative
*Five negative adjectives to describe you:
stubborn, violent, lazy, procarastinator, hot-tempered
*If you could be a pirate, what would the name of your ship be and who would crew it? Or...would you not be a pirate at all? In that case - how would you feel/deal with piracy? WHY?
The name of my ship would be some latin word.. and I think I'll be the First Mate or something. We can sail around the world in dearch of adventure and of course..treasure! :D
*You find and open the Dead Man's Chest. What do you do with the heart of Davy Jones? Why?

I'll use it for my own gain, after I got through so much trouble just to get it, might as well use it :D
*Where is your home? (ex. Port Royal, the Black Pearl, the Isla De Muerta etc...) and why?
Port Royal, at least there is some semblence of order there.
* Congrats, you found the treasure you've been searching for. Now...what is it? What is it that you've searched for and longed for? Why? (Note: It can be either tangibe or intangible, meaning it can be gold or something abstract like freedom):

I would want true love and happiness, because I think those are what makes life worth living :D
*Where would YOUR compass that doesn't point north point to? What is your deepest desire? Why?
*points to answer above* hopefully with my ture love, I would find happiness too!
*Will Liz end up with Jack or Will? Norrington? Hey, STFU, I'm curious what other people think.

WILL! They are just meant to be together, and Norrington is mine!
*Decribe yourself in a word...I know it is tough, but try your best:
scary - the boys in my class are scared of me because I whack them whenever they irritate me, which is very often.
*Anything else you'd like to share?
nope!
*Post at least two CLEAR pictures of yourself, please. If you don't feel comfortable with this, or don't have any, please describe yourself physically as honestly as possible: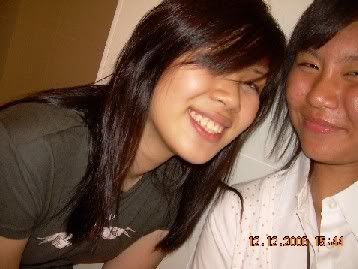 am the one in green..



i'm the one on the right, with the small eyes.. *_*